Just Another Day in Paradise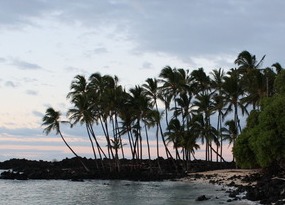 My wife and I (yes, I'm happily married now) recently returned from our week-long honeymoon in Hawai'i — the Big Island, that is. In short, the Big Island is a magnificent place to visit and quite an experience for someone who has never been to the tropics. This post is for anyone who is going or considering going to the Big Island to help you decide what to do, where to go, and how to avoid some of the mistakes we made and opportunities we missed. This is a very long article, so read on for details…
If you're planning to go to Hawai'i, or anywhere really, the most important thing you can do is research, research, research (and save up a lot of money). We did our research, which began with deciding which island to visit. Most people who visit the Hawaiian islands tend to go to either O'ahu (half of which its taken up by Honolulu) or Maui. The Big Island is the third most visited. The other inhabited islands, namely Lana'i, Moloka'i, Kaua'i, while incredibly beautiful, are less accessible to tourists and did not have the range of opportunities we were looking for (although Kaua'i did rank high on our list). We knew we didn't want to go to O'ahu, it's just too commercialized and touristy, so it came down to Maui or the Big Island. We chose the Big Island because we wanted to see Volcanoes National Part and the observatories of Mauna Kea.
With that in mind, we researched and planned out our trip to the Big Island of Hawai'i. The core "must see" activities for us were 1) Volcanoes National Park, 2) Mauna Kea, 3) a submarine excursion, 4) a lu'au and 5) cultural enrichment. Everything else that we would do, such as visiting beaches, shopping, and seeing other sights, would flow around these core activities. I would recommend anyone visiting to also come up with a list of "must see" things to do. Your list may be very different from our own as the Big Island has ample opportunities for snorkeling, diving, whale watching, bird watching, hiking, camping, and even cave exploration.
Also, when you go to Hawai'i (the Big Island) come prepared for every climate on Earth. That's right, you will need shorts and tee shirts, long sleeve shirts, jeans or heavy duty pants, hiking shoes, flip-flops, beach attire, sunblock, umbrella, possibly caving equipment, and a warm coat or jacket, all depending on where you plan to go or what you plan to do. We were not quite as prepared as we should have been.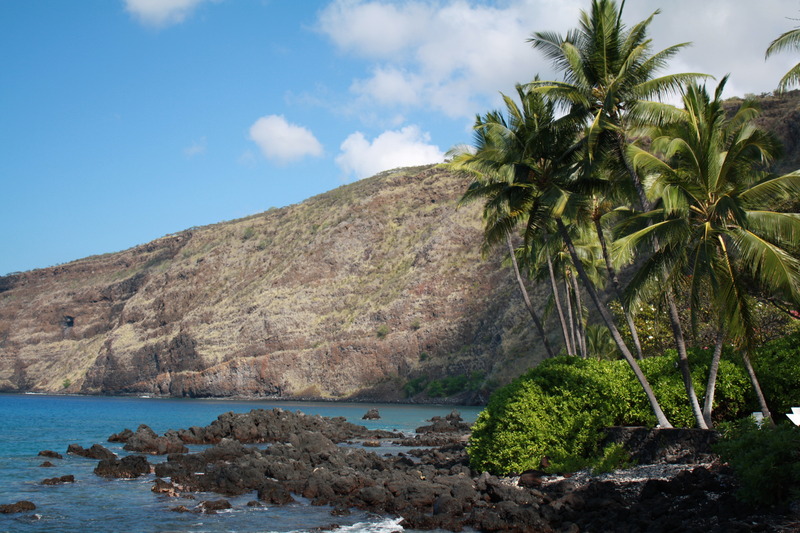 When visiting the Big Island, you also need to decide which side of the island to make your "base of operations" (where you book your hotel or resort): the west side (Kona) or the east side (Hilo). I'll make it easy for you: Kona. The reason? The weather. The trade winds blow in from the east, but the mountains block the trade winds shielding the west side from rain and storms. Thus, it rains frequently on the east side, but rarely on the west side (although it is often overcast). We stayed in the city of Kailua-Kona on the west side, and only experienced a few sprinkles and drizzles now and then. The only heavy rain we encountered was in Hilo or during our drive through the central and eastern sides of the island (and a bit in Volcanoes National Park too).
Let me also add that you must rent a car. There is limited public transportation in Kailua-Kona and Hilo, but unless you are part of a tour group, without a car you will have no way to visit different parts of the island. I also suggest you get a 4-wheel drive vehicle. We rented a Dodge Nitro, which was fortunate, since there were a few places we went to that would have been impossible (or at least difficult) for a 2 wheel drive car. Even so, a nice sedan would work perfectly well for visiting most places on the Big Island.
Picking the right hotel is also important if you want to ensure that you have a pleasant stay. We stayed at the King Kamehameha Kona Beach Hotel and were very happy with it. In fact, we do not have a single complaint. Each room (as far as we know) has a big LCD HD TV, which is great for watching the Scenic Hawai'i channel in HD (yes, Hawai'i has a channel that showcases Hawai'i), and is also quite spacious and comfortable. Other good hotels include the Royal Kona Resort, Waikoloa Beach Marriott Resort, the Hilton Waikoloa Village, and the Sheraton Keauhou Bay.
Day 1 – Monday – Getting to Hawai'i
The first step to vacationing in Hawai'i is getting there. While everything is more expensive in Hawai'i than the mainland (expect 30%+ higher prices), the most expensive part is flying out there, especially if you are on the eastern side of the continental US or another country. The best way to save money is to hunt for the lowest prices, avoid peak season, and book well in advance. Also be prepared for a long flight. Even from the west coast it is a good 5 1/2 hours, and from the east coast it can take as long as 15 or 16 hours, depending on layovers. Jet lag will also be a factor.
We flew out at around 8:30am Monday (November 1st, 2010), and after two layovers, landed in the Kona airport at around 4:45pm local time–that's 10:45pm Eastern time. We did little that eventing apart from getting the rental car, checking int to the hotel, having dinner at Quinn's Almost By the Sea (which we highly recommend), and reviewing brochures to plan various side excursions.
Day 2 – Tuesday – Around Kailua-Kona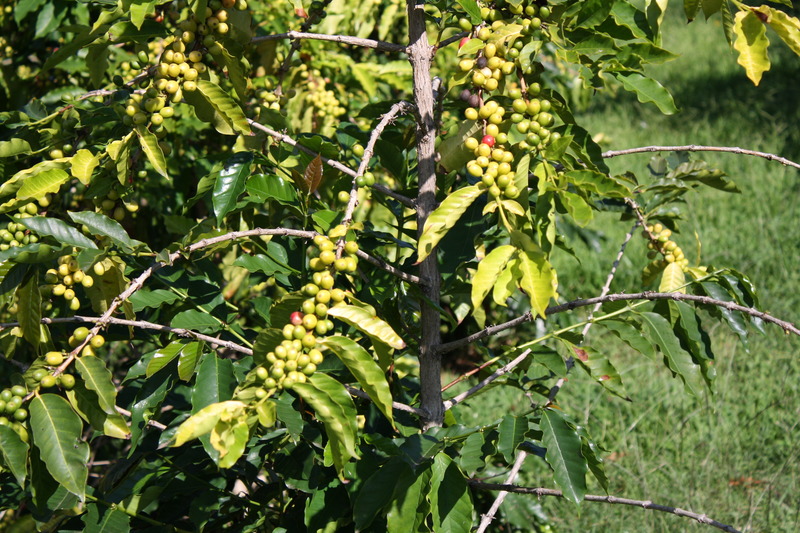 We started off our second day in Hawai'i the right way–with some pure Kona coffee. Naturally, Kona coffee comes from the Kona side of the Big Island of Hawai'i, and several plantations offer tours. We visited a Mountain Thunder coffee plantation in the morning, and if you plan do the the same, please be aware that there are two Mountain Thunder coffee plantations offering tours. We visited the one south of Kailua-Kona which was not as big as the one that is to the east of Kailua-Kona. While the one we saw was nice, please note that you will probably get more out of visiting the larger plantation that is east of Kailua-Kona.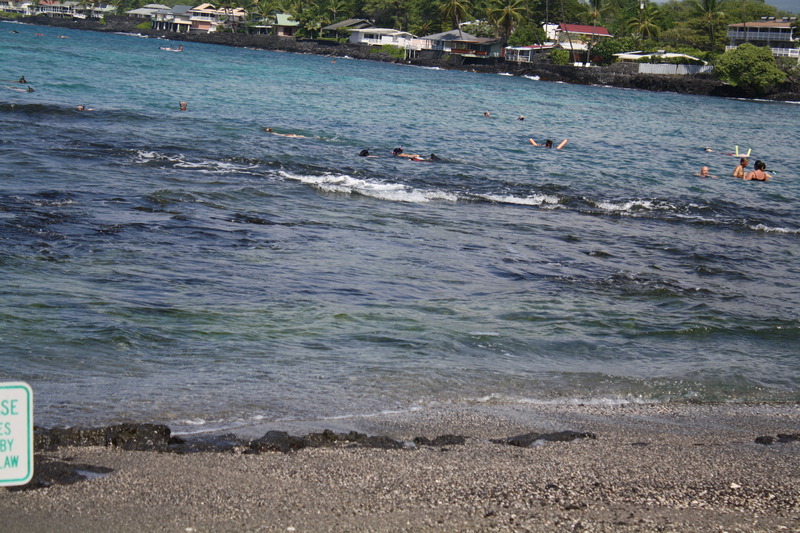 After that we visited a few beaches. We are not really "beach people", but of course you can't go to Hawai'i without seeing a beach or two. The beaches long the western Kona coast are not very crowded and are very picturesque, but if you're into beaches you may want to go to O'ahu or Maui instead. The Big Island still has a lot of raw volcanic rock everywhere, so much of the shoreline is rocky and unsuitable for beach activities; what beaches there are tend to be small and rocky, and the sand is much grainier and pebbly than you might be used to. Even so, they are still quite nice.
After a quick lunch we visited the many touristy shops along Alii Drive in Kailua-Kona. I'm not really a shopper, so I won't go into detail, but the shops down Alii Drive are exactly what you would expect to find in touristy Hawai'i with all kinds of touristy Hawaiian stuff, ranging from Aloha shirts (Hawaiian shirts) to more Aloha shirts to even more Aloha shirts, as well as beach wear, typical gift shop items, and jewelry stores. We then had dinner at a restaurant called the Fish Hopper, which was very good.
At this point I should note that there are a lot of great places to eat in Kailua-Kona and down most of the western Kona coast (and in Hilo as well, but we did not spend much time there). I highly recommend Quinn's Almost By the Sea, which is across from the King Kamehameha Kona Beach Hotel, as they have excellent food, good service, and decent prices. We only ate there twice, but it was only because we wanted to give other places a try (in fact, it was the only restaurant we ate at more than once during our stay). The Fish Hopper on Alii Drive is another good place to eat, although it can be a bit expensive, and there is also a Bubba Gump's further down Alii Drive. If you're into pizza, you should check out Mahina Pizza. The only place we ate at in Hilo was Ken's House of Pancakes, which was great classic-style diner with good prices, although the restaurant was so crowded that we joked about it being the only restaurant in Hilo (it's not… I don't think…).
Now here's a word of caution. Aside from Kailua-Kona and Hilo, restaurants on the Big Island are hard to find. If you're driving across the island between those two cities, or to or from Volcanoes National Park, and are hoping to stop at a restaurant along the way, forget about it. We had a very, very late dinner after driving back from Volcanoes Nation Park as a result of there being no restaurants (that we could find) down the long stretches of highway 11, and had a similar problem when coming back from Hilo (although the town of Waimea, which sits between Kailua-Kona and Hilo, has some good restaurants). So just be mindful of this and plan accordingly.
Day 3 – Wednesday – Sub Adventure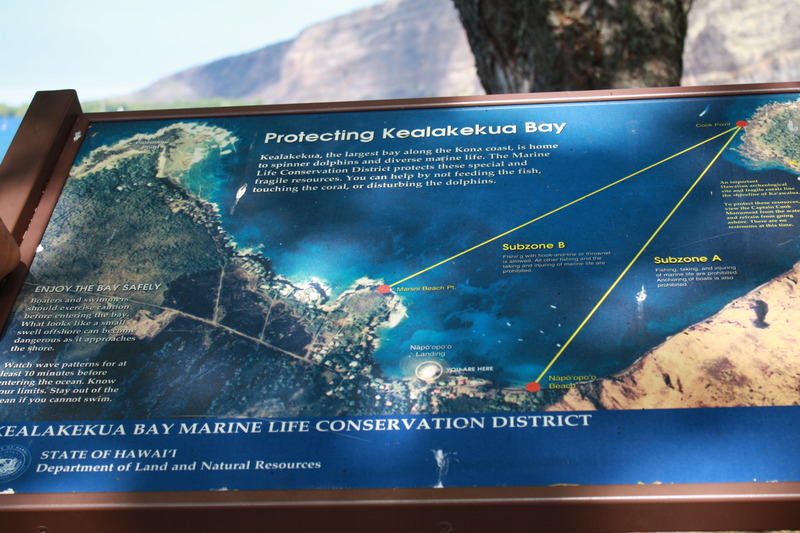 Wednesday was our day for the submarine adventure and lu'au. The morning was free, and we spend most of it visiting a few miscellaneous points of interest that were south of Kailua-Kona. One of the places we tried to find was the Captain Cook monument, and our excursion took us to a beach that supposedly led into the park where the monument was located. While the beach was very nice and secluded (primarily used by local residents), it turned out that the Captain Cook monument was not easily accessible–the best way to get to it was by boat across the bay from the beach which was simply "in sight of" the monument. There was a plaque there that pointed out where the Captain Cook monument was located.
After lunch we went on the submarine excursion. Atlantis Adventures has several submarines throughout the Hawaiian islands (and elsewhere), and these are true submarines–not semi-submersibles or cheesy glass bottom boats, but the "real-deal". You should book at least a few days in advance to make sure you get a seat, but the sub can hold around 30 to 40 people. Each side-facing seat has its own domed window, and the windows are actually bigger than I expected them to be, perhaps 20 inches in diameter (but I did not measure them). We lucked out in getting a small group on our sub. Besides ourselves, there were only 3 other people, plus the guide/narrator and sub pilot, so it was almost like having a private submarine tour! In Kona you get to see coral reefs, fish, more fish, some schools of fish, the occasional sea urchin, eel, jellyfish, or sea turtle (we didn't see any turtles, though). The Atlantis Adventure in O'ahu tours sunkens ships as well, but do not expect to see any ship wrecks under the water in the Kona tour. By the end of the voyage (which is a least an hour long) we had descended to 113 feet and touched bottom, after which the sub rapidly surfaced amid a fury of bubbles. If you've never been on a sub, you should try the Atlantis Adventures–then you can brag about how you've been down in a submarine off the coast of Hawai'i. Pretty awesome.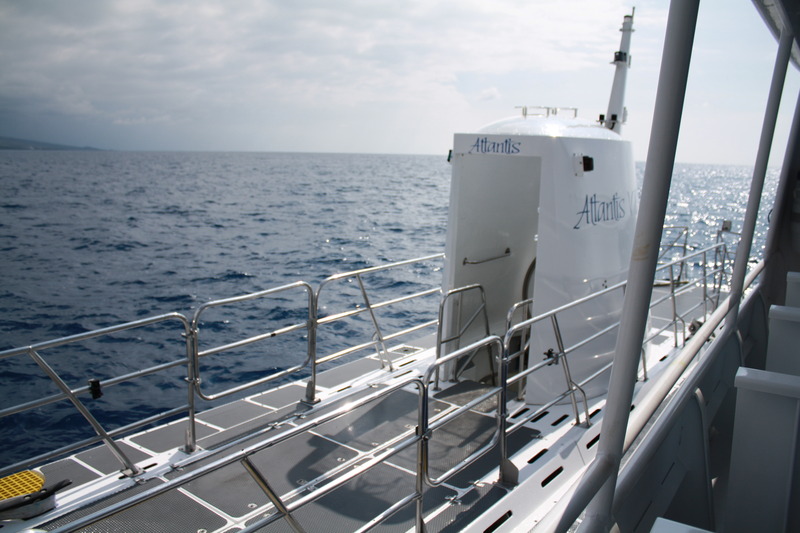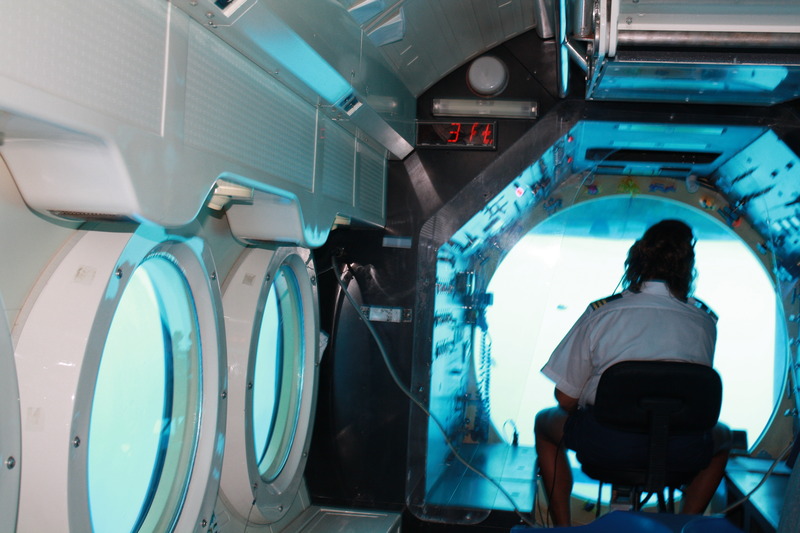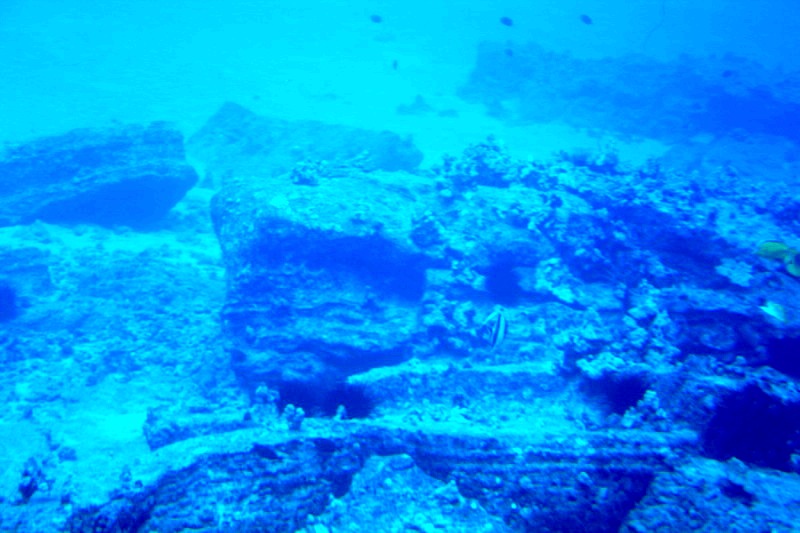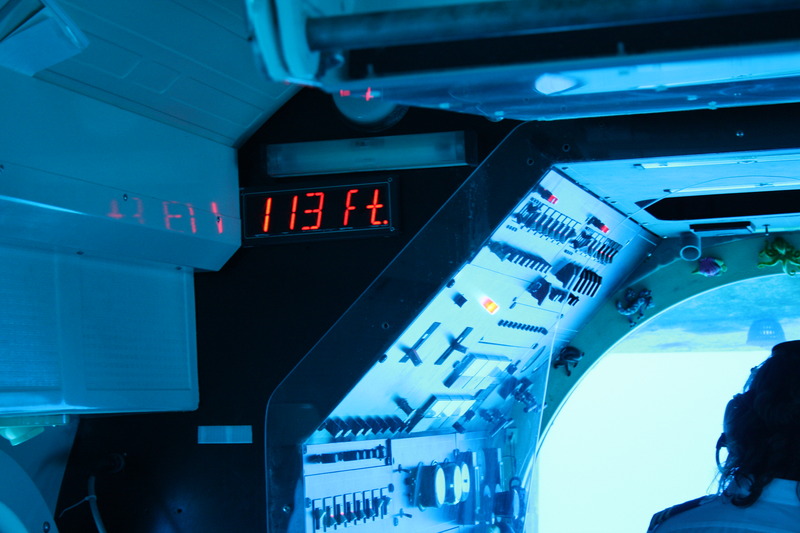 We got a package deal with Atlantis Adventures that included a discount on a lu'au at one of the hotels (in our case, it was the lu'au at the Royal Kona hotel, although I was hoping for the lu'au at the King Kamehameha as it looked a bit more interesting). Even so, be prepared to pay big bucks for any lu'au you attend. Prices range from $80 to $100 per person–ouch! Nevertheless, the food is good (try the poi… no wait, don't try the poi–you'll find out what I mean), and the hula dances and traditional dances they put on are defiantly a must-see. So sure, it does cost more than most people want to pay for a dinner, but you need to do it anyway.
Day 4 – Thursday – Volcanoes Park
Going to Hawai'i and not visiting Volcanoes National Park is a bit like going to the Kentucky Derby and not seeing a horse race. Naturally, then, any trip to the Big Island should have as one of its central activities a visit to Volcanoes National Park. And by visit I mean most of the day, if not more than one day. Volcanoes National Park is HUGE and there is a lot to see–and all of it is utterly breathtaking. We dedicated a full day to drive there and check out the park, leaving well after nightfall.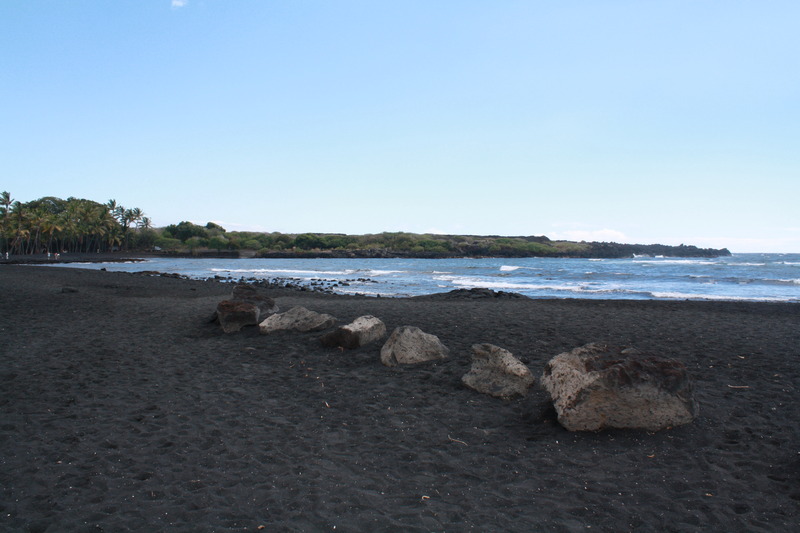 The drive from Kailua-Kona to the park is about 2 1/2 hours (from Hilo it is just 45 minutes to an hour). Before getting to Volcanoes National Park we did stop at the Panalu'u Black Sand Beach to check it out and take some pictures (there were very few people there, which was a bit surprising). Then we drove the rest of the way to Volcanoes National Park, paid the $10 to get in, and went the visitor's center.
Now, at this point I need to add that anything I mention here could be out of date by the time you visit. Volcanoes National Park is a geological active place, so things are literally shifting around every day. Obviously, I can only tell you about the condition of things as they were when we visited. Oh, yes, and you do need a car to get around. Unless you are Hercules, you will probably die trying to hike across the wind-swept wastelands of primordial earth. And while I am on the subject of dying, please go to the park well prepared, even if you plan to stay in your car most of the time. Have warm cloths as it is cool (sometimes cold) and windy, rain gear (as it seems to rain or at least sprinkle frequently), hiking boots, a flash light or two, maps, and plenty of water. If you plan to hike or camp, come prepared as though you're going to hike or camp in a dry (yet rainy) rocky environment similar in some respects to the planet Venus, except colder and with a little less sulfur.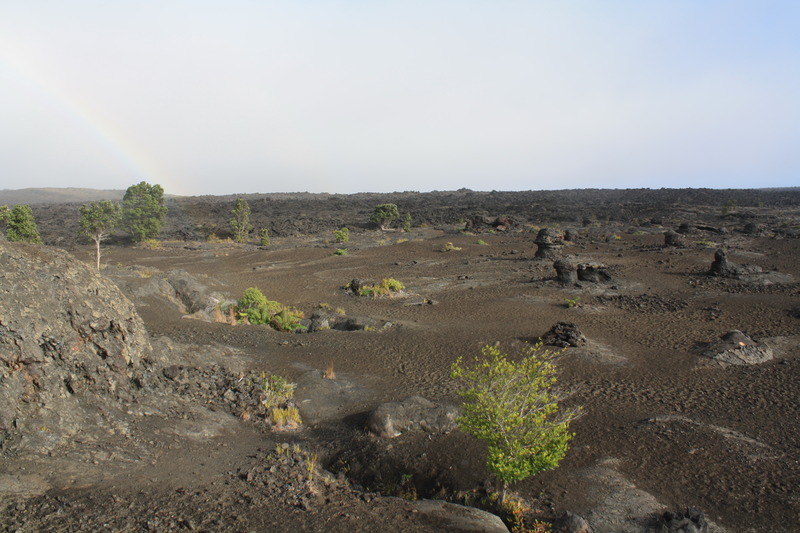 The main sight to see is the Kilauea volcanic crater, which is currently active, and to get there you just leave the visitor's center follow Crater Rim Road around to the Jagger Museum, which is the Kilauea museum and information center, and sits adjacent to the Hawaiian Volcano Observatory (the HVO is a working facility, not open to the public). Crater Rim Road circles the entire Kilauea crater (hence the name), but at the time we were there most of the road was closed due to Kilauea's activity and hazardous sulfur fumes. If the road is open when you visit, there are some excellent overlook points that should not be missed. Even so, the overlook from the Jagger Museum is very good, but you may want to bring binoculars to get an even better view. By day the crater is smoking with a great column of white smoke and gas, and at night the crater also has a bright orange-red glow (from the lava deep below) which is a definite must see. We visited it in the day when we arrived, then dropped by again at after night fall before departing from the park.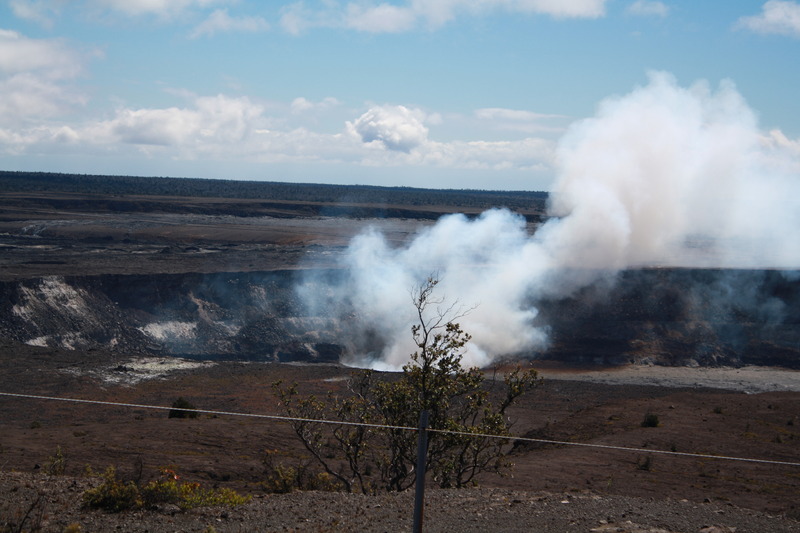 If you are hoping to see live lava anywhere in the park, call ahead to find out the status. When we were there, the active lava flows had moved away from the park into some rather inaccessible areas and private property. There were helicopter tours and boat tours that could take you to see the lava as it flowed into the sea, but we opted not to do those due to time and budget constraints. If you're lucky, there might be live lava in the park during your visit, or you could of course book a boat tour.
After that we drove down Chain of Craters Road, which, as the name implies, is a road that leads down a chain of craters all the way to the southern coast (I think it was about 20 miles). There is also another main road, Hilina Pali Road, which I think leads to some camping areas, but it was closed at the time. Down Chain of Craters Road you will find numerous pull off areas into overlooks that give excellent vantage points over older, currently inactive volcanic craters. Some of these also lead to hiking trails which will take you across the stunning, yet desolate volcanic plains and rock strew deserts, and are anywhere from a short hike, to couple of miles, to trails that go on for 5 or 10 miles, or more. If you are fairly fit (or brave), try the 5 mile hike across the volcanic crater Kilauea Iki, as you get to walk across the solidified surface of what had once been a raging volcano. Sadly, we were not able to do this as we were a bit under prepared (plus it can take up to 4 hours to make the trek).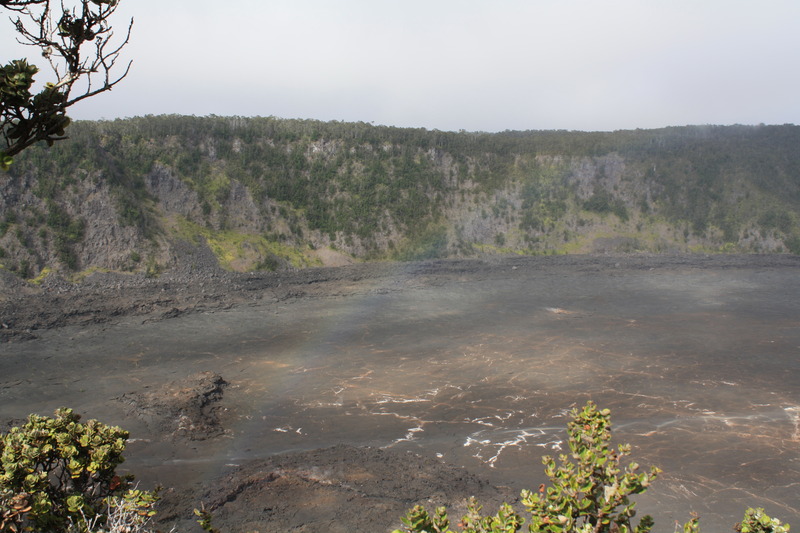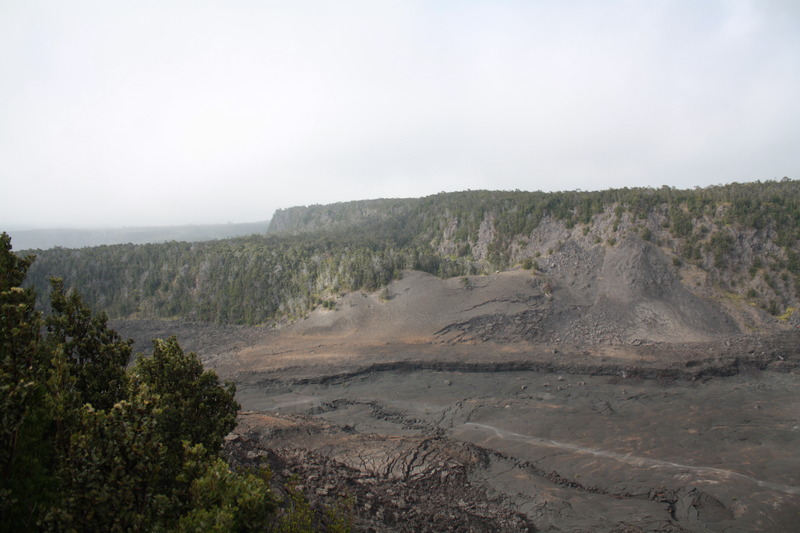 Along the way we took some pictures of rainbows rising out of volcanoes (it was a bit sprinklely), visited some sulfur vents, and explored some desolate stretches of volcanic tuff. We also found a road that had been covered in lava, and nearby a rift valley that expanded out across some lifeless, wind swept plain of black rocks and endless desert that look exactly like the land of Mordor right out Lord of the Rings. What surprised us most of all was the fact that, apart from a few warning signs (which amounted to "be prepared if you go further; we're not responsible if you die"), there was little to keep people from just wandering off into the endless, inhospitable wilderness. In other words, it's pretty raw out there as you go further south down Chain of Craters Road. If you start hiking, you're on your own.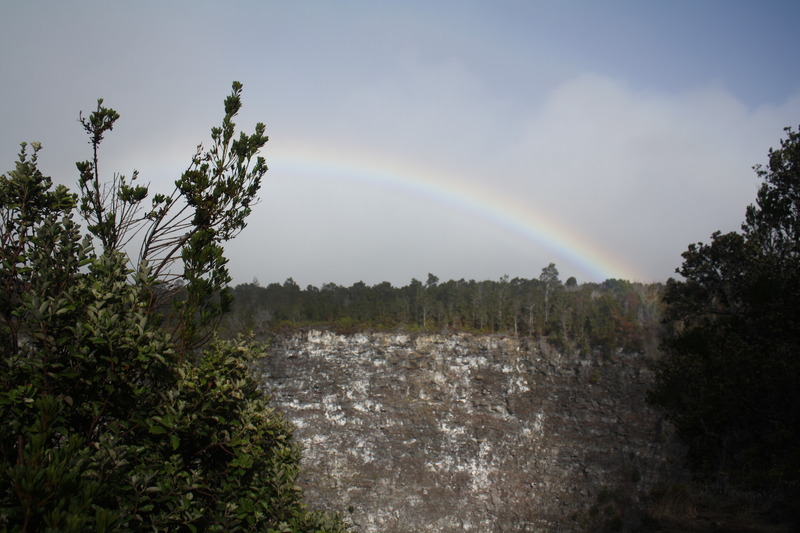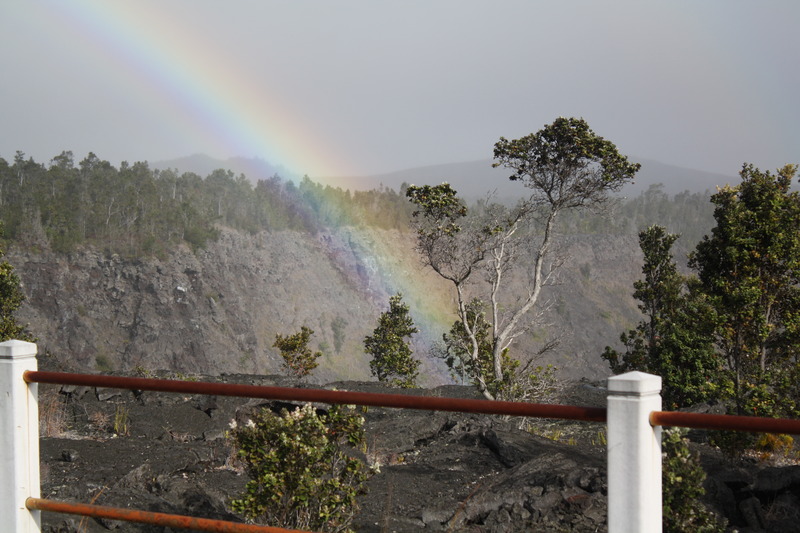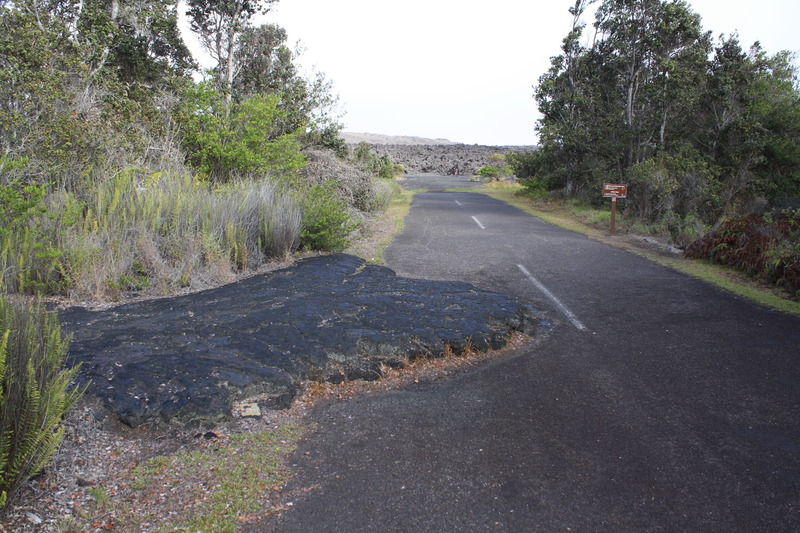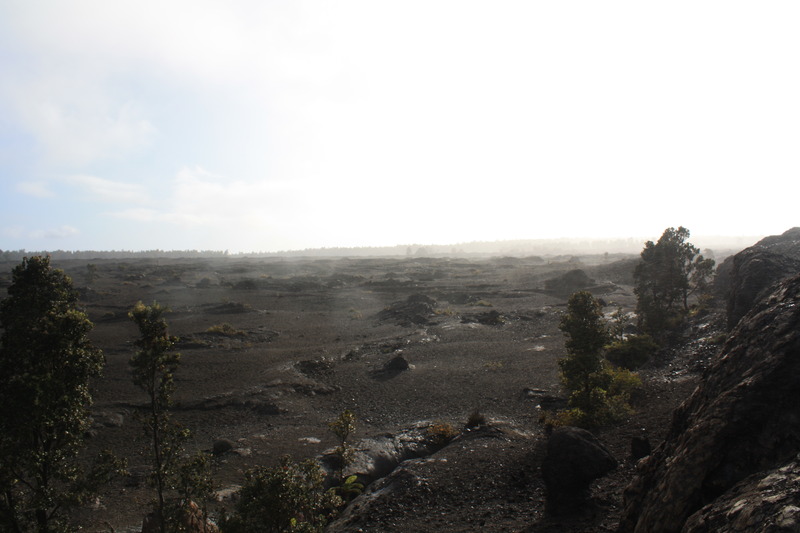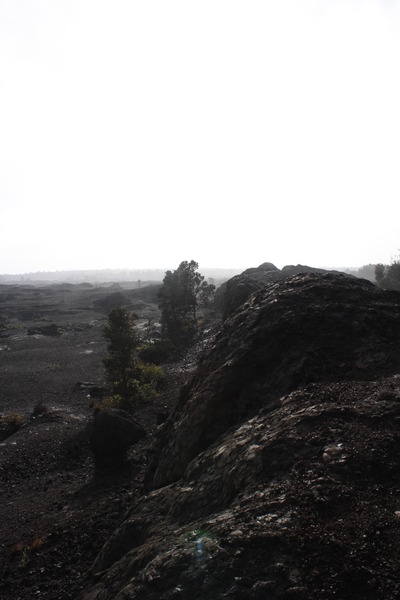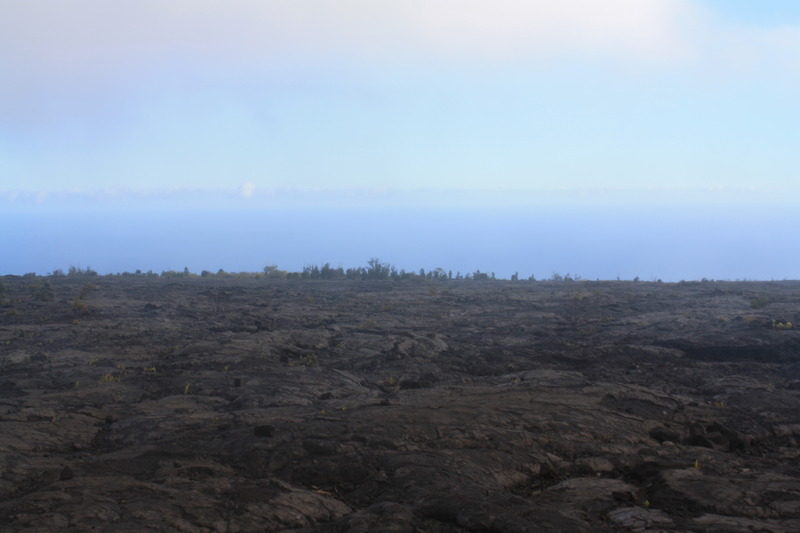 Chain of Craters Road ends at the coast. It used to continue east and out of the park, but is now blocked on account of having been covered with lava. There is a small parking lot where the road ends (recently added at the road block) where you can get out and explore some more, and even go to a lookout point overlooking the cliff that drops straight down to the ocean. Also near the southern end of Chain of Craters Road is a pull off for taking a 1 mile hike to see some native petroglyphs. The trail is difficult, and even though dusk was falling I managed to make it there, take some pictures, and get back before the sun finished setting. Here's a warning: even with a flash light you do not want to be caught out on some of these trails as they are extremely treacherous. Even experience hikers could have difficulty. But seeing the petroglyphs was certainly worth the effort.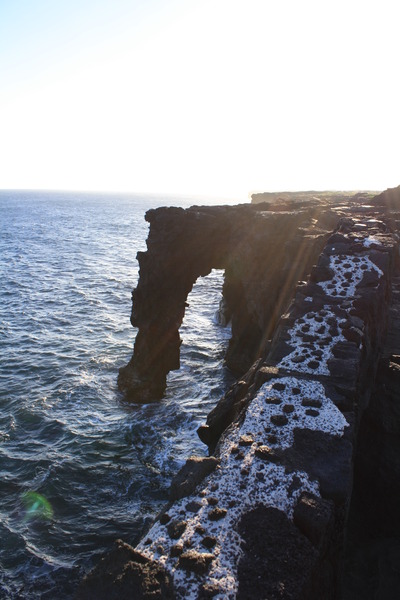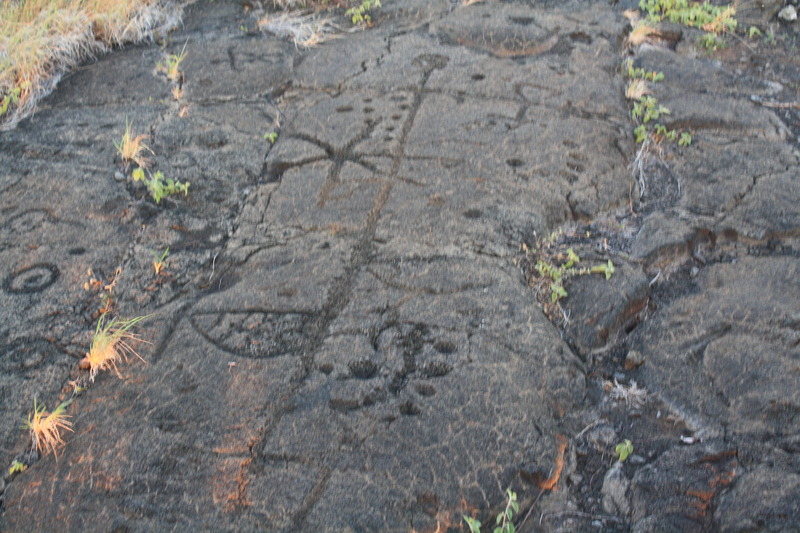 As night set in, we drove back to the Jagger Museum on Crater Rim Road to see Kilauea at night. And wow… we were not disappointed. At night, Kilauea looks like a hell-mouth leading straight down the core of the earth, smoldering with a great plume of red-lit smoke and fumes. In spite of how cold and windy it was, all we could do was standard their starring at it in dumb-struck awe. Honestly, I can't even put the experience in words, and this picture (my best picture of it at night) hardly does it justice. But here's the picture anyway.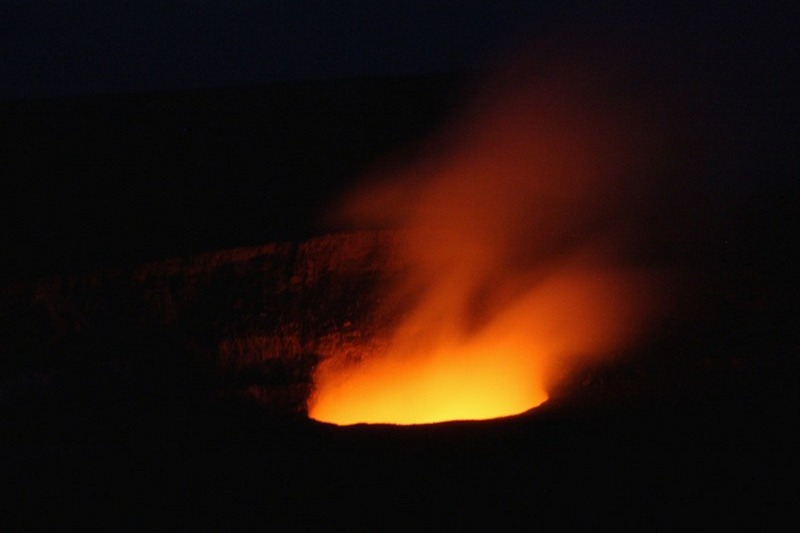 After that, we drove back to our hotel 2 1/2 hours away, which at night and unable to find a restaurant (as I noted earlier) was a bit of drag.
Day 5 – Friday – On to Hilo
Friday we dedicated to seeing the various landmarks and parks around Hilo. There is quite a bit to do in Hilo, but it takes about 2 hours to get there from Kailua-Kona. We drove to Hilo along State Highway 200, which turns out to not be the best way to go, but is very scenic (it skirts Mauna Kea). We returned on Highway 19, which is probably the best route, and which is also scenic as it skirts the northern coast in places.
Before we got the Hilo we stopped at a tiny, little known park for Kaumana Cave. If you're not looking for it, you'll miss it, as it is just a quick pull off from State Highway 200 just on the outskirts of Hilo. There was no one there (which was good, as there are something like 1 and 1/2 parking places), and that is probably because no one apart from cavers knows or cares about it. But the cavern is quite beautiful with the rain forest drooping down into the pit where the two cave entrances can be found. The cave (actually, it is a lava tube) is accessible down some steep concrete stairs, after which you are pretty much on your own. We did not go far into the cave, and have no idea what is further in or if it is of any interest to cavers. For all we know it dead ends. If you are a cave explorer and want to check it out, I recommend you research it first.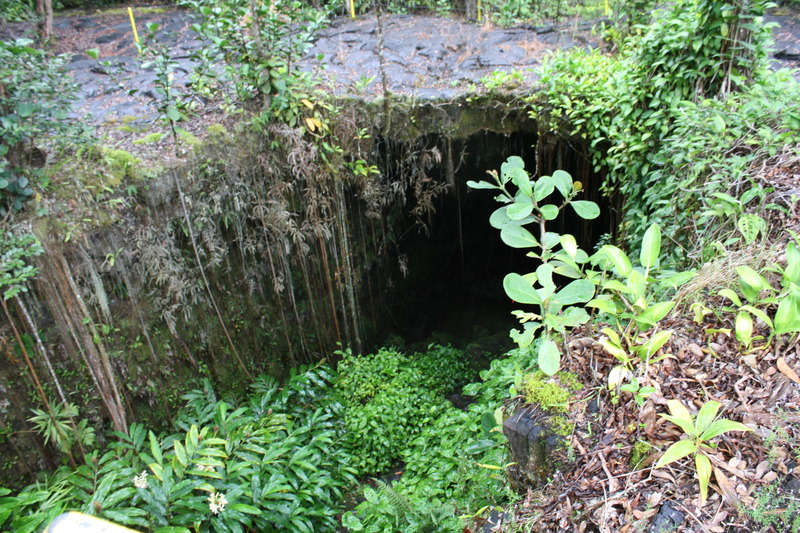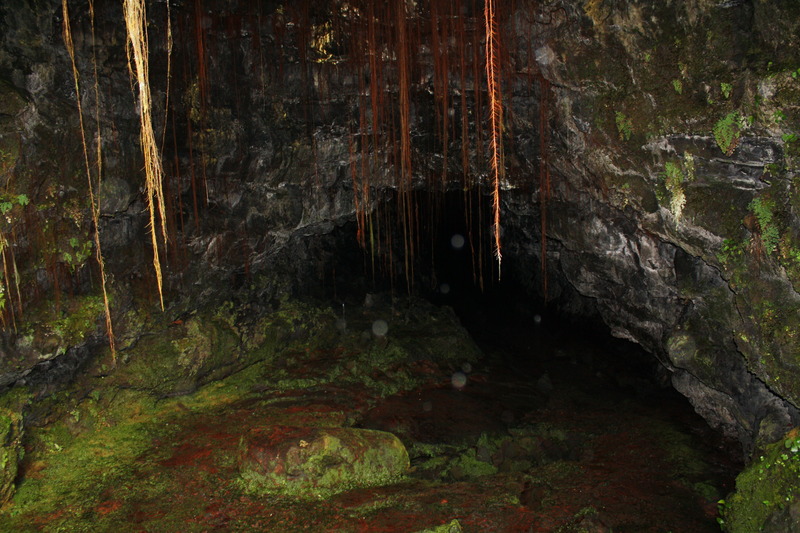 When we got to Hilo it was, unsurprisingly, raining. We were going to visit the botanical gardens near Hilo, but were not able to find it (plus, it was raining), and also skipped seeing the Lili'Uokalani Park, also due to the rain. We did go to the Lyman Museum, which a moderately sized museum that has displays on the natural history, wildlife, geography, and native peoples which is very much worth seeing to gain a better appreciation and understanding of Hawai'i in general. I highly recommend it, but they did not allow pictures so I have none to show. We skipped the tour of the historic Mission House, as we had no real interest in 19th century missionaries.
After lunch at Ken's House of Pancakes (not just pancakes, its like a classic diner–check it out if you're in Hilo) we went to the Imiloa Astronomy Center (http://www.imiloahawaii.org), which is part of the University of Hawaii and sits adjacent to a complex of research buildings for the Mauna Kea observatories (those are not open to the public as far as I know). We arrived just in time to see the planetarium show "Awesome Light: Mirrors on the Mountain" which was absolutely spectacular. Even better, there was no extra charge to see the planetarium show–price was included in the ticket, so if you go you must checkout whichever show is playing. The other exhibits are also quite nice, and include up-to-date information on astronomy and cosmology, information on Mauna Kea, traditional Hawaiian beliefs on the cosmos and stars, some fun-looking children's exhibits, hands-on and interactive exhibits for both children and general audiences, information on the voyage of the Polynesians to Hawaii, and native Hawaii music and dance (though I'm not sure how that relates to a space center). Basically, if you're visiting Hilo, you must check out the Imiloa Astronomy Center.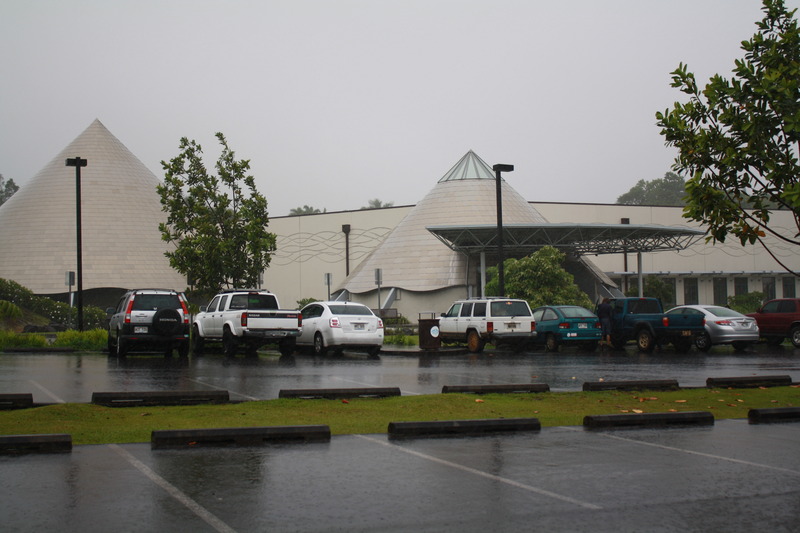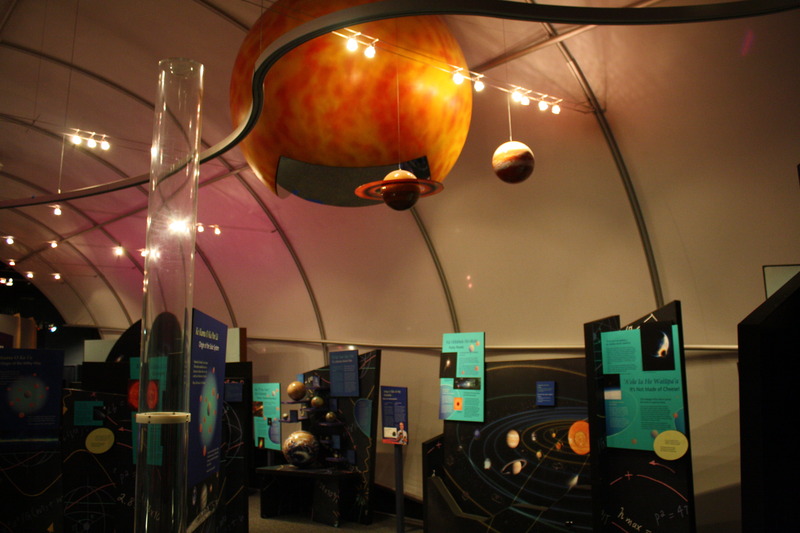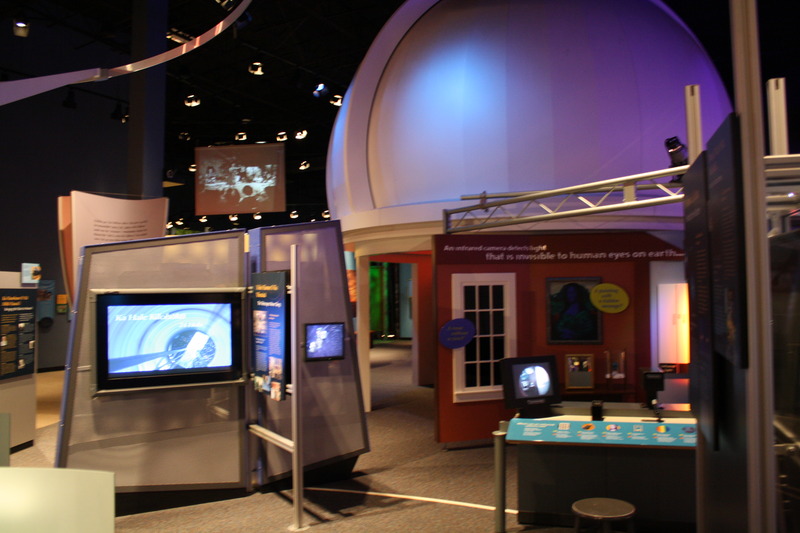 Before heading back to Kailua-Kona we drove to the Mauna Loa macadamia nut factory, which we thought had a museum or something. We were wrong–the a visitor center is only a store, but it is very nice store and has a lot of Mauna Loa macadamia nut item for sale that are hard to get elsewhere. There is also a tour of the Mauna Loa macadamia nut factory, but we arrived too late for the tour. On the plus side, we did see a lot of macadamia nut trees in their plantation and purchased some yummy macadamia nuts.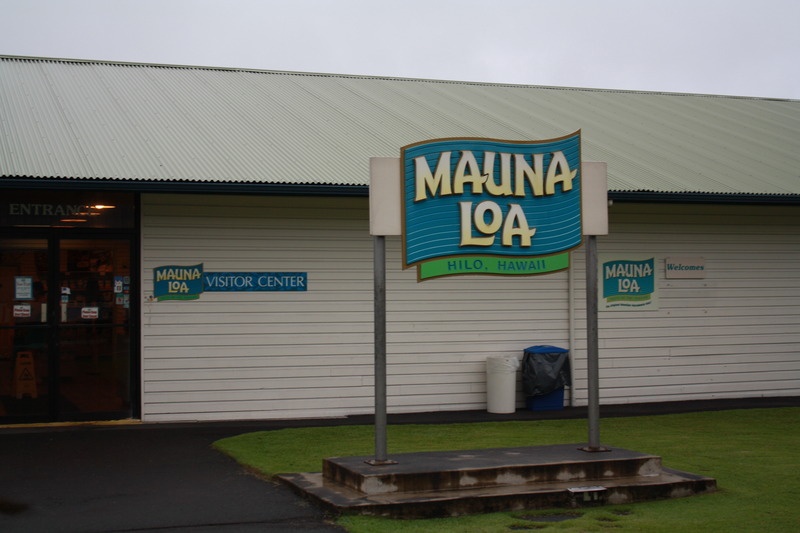 Then we drove back to Kailua-Kona. At night. In the rain.
Day 6 – Saturday – Mauna Kea, or Not
Saturday was supposed to be our big day for the Mauna Kea Summit Adventure tour (http://www.maunakea.com), which takes people up to the summit of Mauna Kea (over 13,500 feet up) in a bus to see the observatories at dusk, then takes you back down to 9,000 feet where a number of computerized telescopes are setup for some awesome star-gazing. That's right, you can see the Keck and other observatories on Mauna Kea, and then can do some star-gazing yourself right there on Mauna Kea! Its pretty expensive, but we could not pass up such a magnificent opportunity. This is something I dream about… A once in a life time opportunity to see the stars from the best star-viewing mountain on the planet.
We booked on Monday, and all the tours were filled until Saturday, so that was when we scheduled. However, the weather was looking pretty bad Saturday morning, and it was even raining in Kona. Still, I knew Mauna Kea was higher than most of the weather, so while I was a bit nervous, I was hopeful that the tour would not be canceled. I would be utterly devastated if it was.
Meanwhile, it turned out that we were in Kona for the first weekend of the Kona Coffee Festival, so while we waited to hear back on the status of the tour, we spent the morning visiting various coffee vendors setup in an art district near Kailua-Kona. It was nice overall, even though it was raining. We tried a lot of coffee samples from all the small and independent Kona coffee growers–some good, some not so good. All the while I was pretty anxious about the status of the Mauna Kea Summit Adventure tour.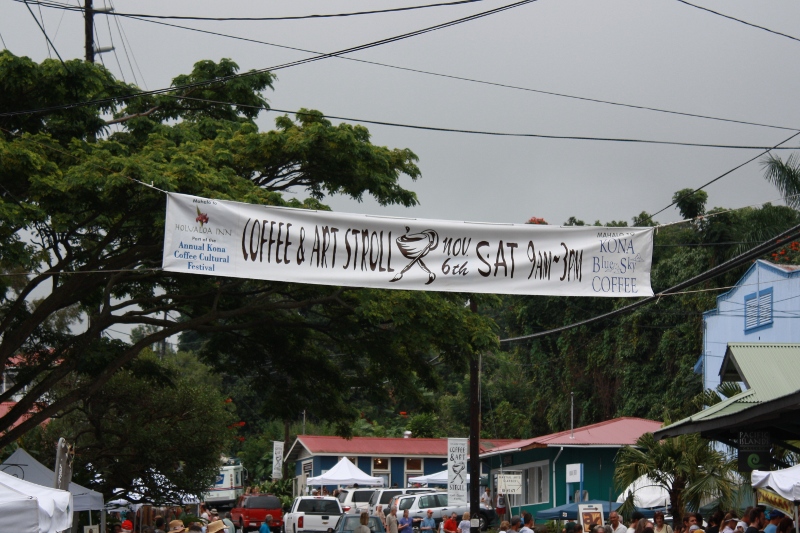 Then, just before lunch, they called to say it was canceled. I was devastated. The Mauna Kea tour and Volcanoes National Park were the two "must do" high points of our visit to Hawaii–heck, it was half the reason we chose to go to the Big Island of Hawai'i in the first place. Being our last night in Hawai'i, there was no way we could reschedule. I have to admit that this ranks as one of the biggest disappointments in my life, and while it may not seem that important to some people, it was for me. Seeing the stars from Mauna Kea would, in a very real sense, have been what some might call a religious experience. It would have been the closest thing to a "pilgrimage to the cosmos" that I would likely find in my lifetime. But the opportunity was lost, and I will perhaps never have such an opportunity again.
Even though our Mauna Kea Summit Adventures tour was canceled (and yes, they did refund our money), I still recommend it to anyone who is visiting the Big Island who has an interest in astronomy and/or star-gazing, or science in general. The key is this: don't book just a week in advance, book well in advance. By that I mean book a month in advance (or more), and schedule it for your first or second night on the island. That way, if it is canceled, you might be able to reschedule for a later night during your stay (however, keep in mind that they are usually booked solid at least 4 or 5 days out, or more at peek season). They claim that canceled tours are rare (about 5% or 6% of them), and I guess we just happened to be one of those unlucky tours. In fact, since they have a 24-hour cancellation policy (100% refund if you cancel 24 hours in advance), you may want to book two tours–one at the beginning of your stay and one near the end, canceling the second tour if the first one is a go.
Anyway, in lieu of the Mauna Kea tour I spent most of the day moping about. After all, what can one possibly do that would take the place of something like that? Obviously nothing. But I finally decided to suck it up and drive to a few of the nearby beach parks to get some pictures, and perhaps some sunset pictures as well. Kekaha Kali Start Park, just north of the Kona airport looked interesting, so I drove there–and had a few interesting surprises!
Just past the Kona airport heading north I passed a couple cars parked by the side of the road. Amazingly, it looked like there was a cave. I pulled off and walked over where the other people were, and sure enough it was a cave–an opening to a lava tube, to be exact–completely unmarked and unnamed. The ground above the tube had collapsed in several places further away from the highway, and people (adults and children) were exploring down into the tube, which did not seem particularly safe to me. In retrospect, lava tubes are probably found all over the place in Hawai'i, but having seen only a few I still thought it was pretty cool. I took some good pictures, enjoyed the sights, and drove on.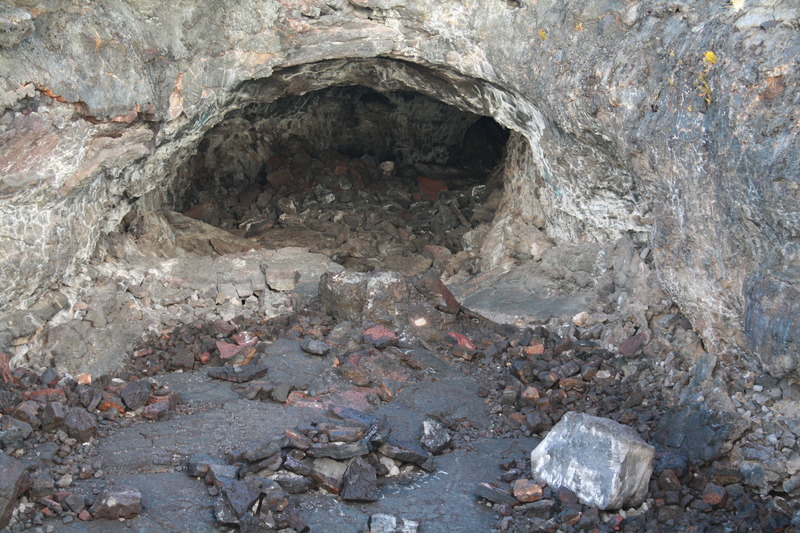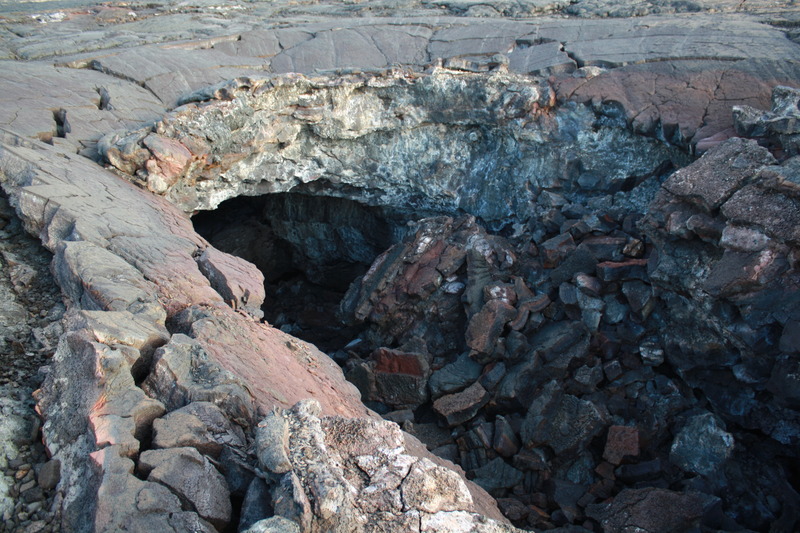 Arriving at Kekaha Kali Start Park was also a bit of a surprise. I have no idea what happened here, but the 3 mile road from the highway that winds its way through the lava fields to the parking area looked like it was hit by a cluster bomb. It was a good thing I rented a Dodge 4×4 as the drive would have been impossible for a sedan (well, almost impossible–there were a few 2-wheel drive cars bouncing back down the devastated road). When I finally did get to the parking area, I was just about the only visitor there. A quarter mile trail took me to the Kekaha Kai Beach, which was worth seeing and eerily empty. It was a nice long beach, with several gutted and abandoned beach buildings, and I had the whole beach all to myself. There were foot prints everywhere, so I knew people had visited that day, but even so it was apparent that this was not a beach that lots of tourist visit. If you are looking for a large, non-touristy beach without a lot of other beach goers, the beach at Kekaha Kali Start Park is the place to go. But be mindful of the road–it is rough, and by that I mean it's like driving over a rocky obstacle course filled with pot holes, and pot holes within pot holes.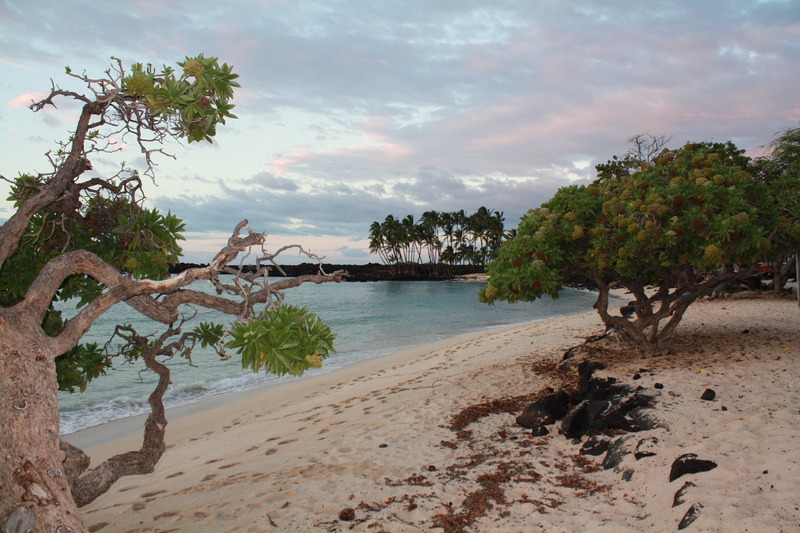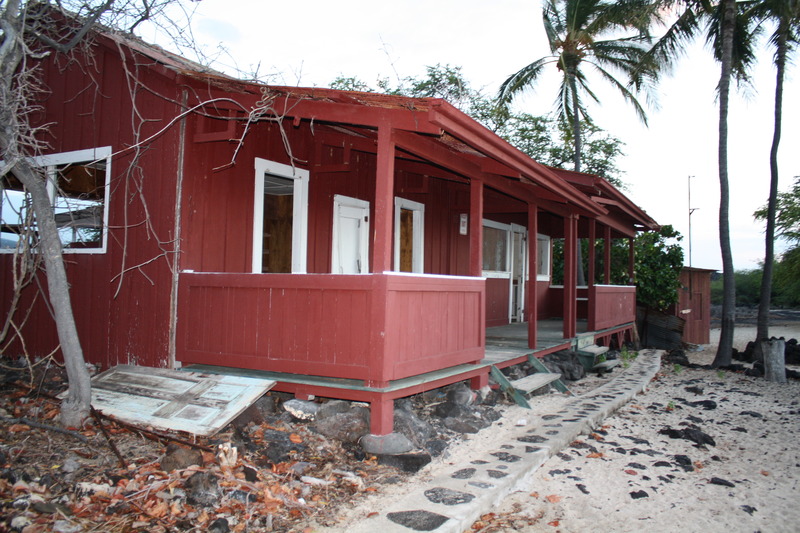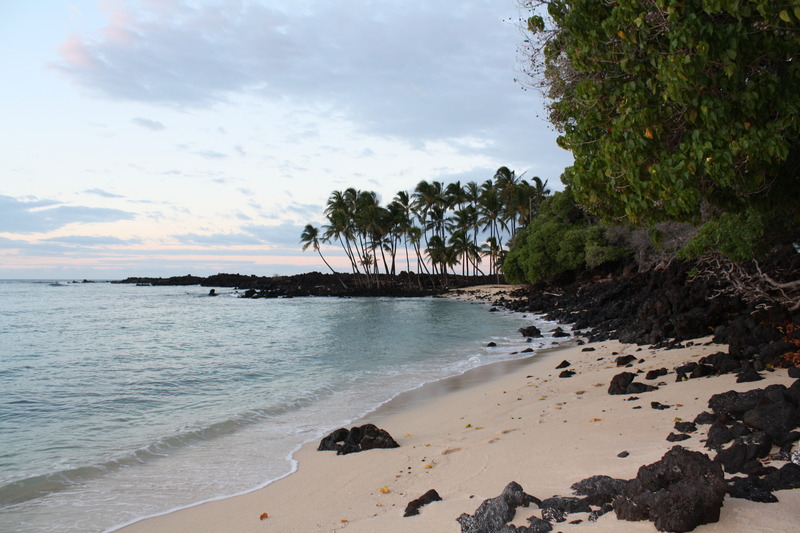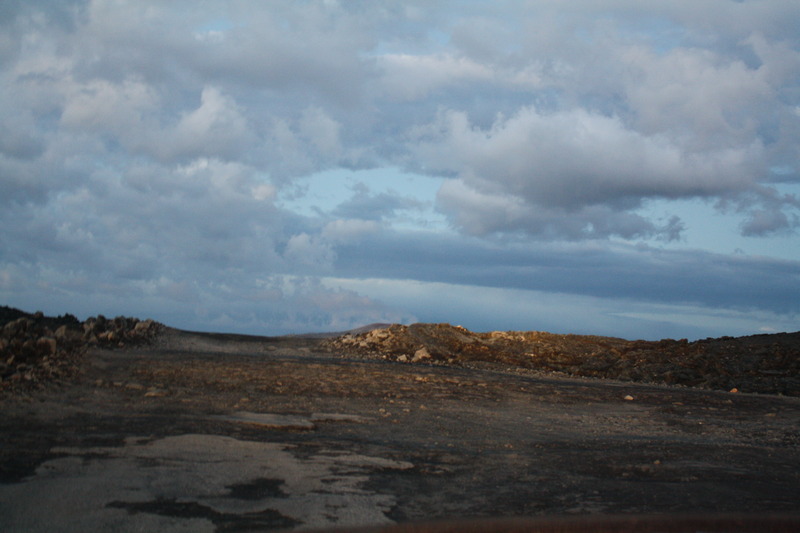 Day 7 – Sunday – Wrap-Up and Going Home
Sunday was our final day in Hawai'i and we spent the morning packing up, loading the car, and checking out. Our flight was not until 9:45 PM, so we still had time to see some more sights before heading to the airport.
The nearby Kona Brewing Company offers a 10:30am tour, which worked well for our schedule especially since they also had a pub/restaurant that we wanted to try out for lunch. I'm not into beer, but the tour was interesting and gave a lot insight into how micro-brewers actually work. There was beer tasting after the tour (I don't particularly like beer, but even I found their Kona coffee beer, Pipeline Porter I think it was, to be pretty good), and our tour guide was great. We then had lunch at the Kona Brewing Company restaurant and pub, which I must say has some very good food at a decent price (decent for Hawai'i, that is).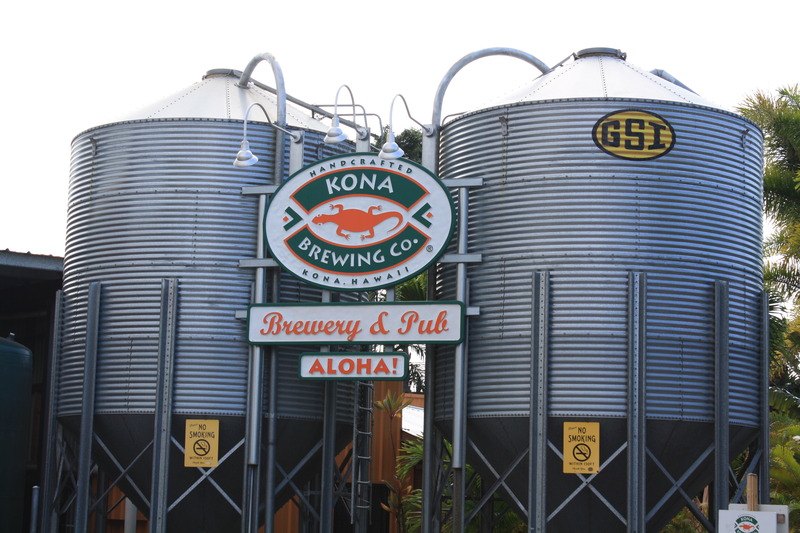 After lunch we drove south the Pu'uhonua o Honaunau National Historical Park, translated as "Place of Refuge at Honaunau". This place is absolutely worth seeing if you have any interest in native Hawai'i culture and history. It is essentially a reconstruction (still in progress) of the "Place of Refuge" as it was several hundred years ago, and is located on the western Kona coast about 20 minutes south of Kailua-Kona, just off highway 11. There is a visitor's center with information and a short audio tour and mural, an amphitheater (nothing was going on there at the time), and a path leading into the actual site itself. On the grounds are numerous reconstructed thatched roof buildings, a small secluded bay for canoes, a couple fish ponds, a massive "great wall", and numerous wood carvings (reproductions) of Hawaiian gods. The story behind the Place of Refuge is also quite interesting. Apparently, if you broke a law or were on the loosing side of a war, you could flee to Pu'uhonua o Honaunau for sanctuary as no blood could be shed on the sacred land. Then a priest could absolve you, and you could return home without risk of punishment or execution.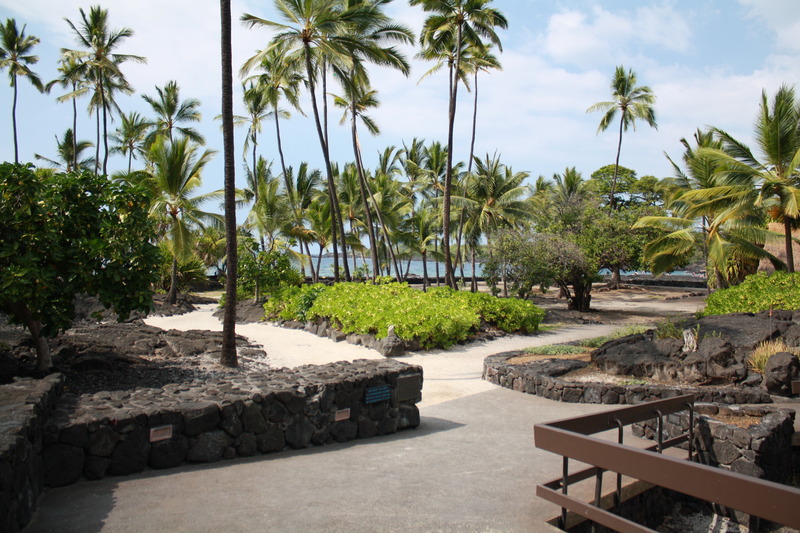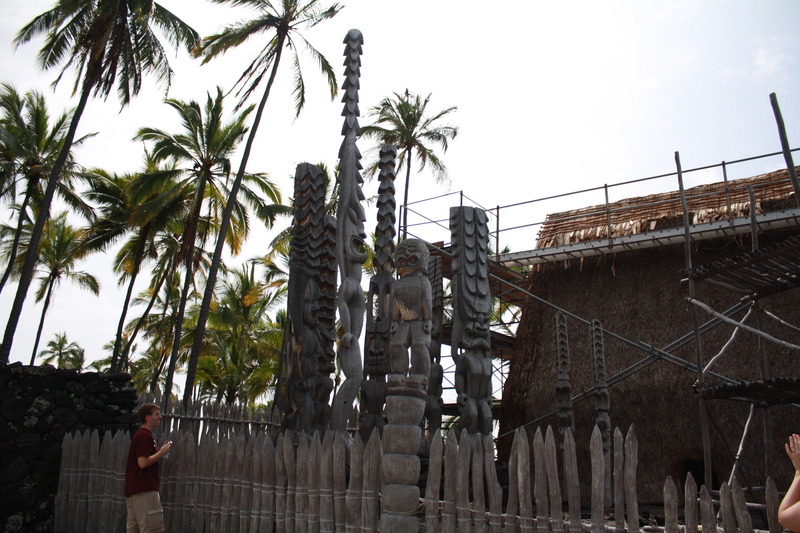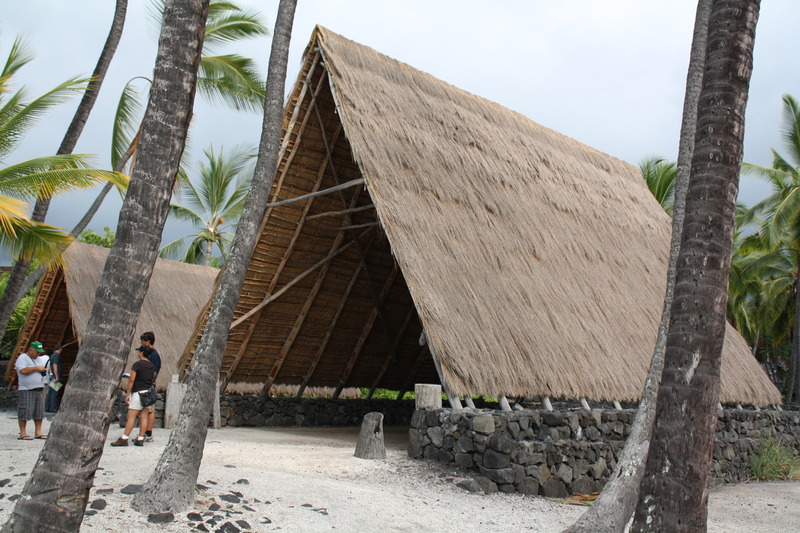 After seeing the Place of Refuge, we headed to the Painted Church. The Painted Church was not all that impressive, and could easily be skipped. The paintings were nice, but nothing to write home about, so I won't go into any more details. We also wanted to see the Amy B.H. Greenwell Botanical Gardens which were located a little way down the road from the Painted Church. However, it turned out that the gardens are closed on Sundays. Too bad. I think the admission is free, so you should check it out on your visit on any day other than Sunday.
The last place we visited prior to heading to the airport was the Sheraton at Keauhou Bay to have dinner and hoped to see some manta rays. The Sheraton at Keauhou Bay advertises that their outdoor restaurant and bar has a manta ray viewing area, overlooking the rocky shore where manta rays sometimes come to feed. But it is a bit hit or miss. We did not see any manta rays, partially due to a boat that was nearby that was apparently interfering.
After dinner we drove to the airport, turned in our rental car, and waited to board the plane for our long flight back home.
I hope you enjoyed my coverage of our trip to the Big Island of Hawai'i, and if you're planning a visit of your own that my tips, insights, suggestions, and recommendations will be of good use.
Aloha!